Cetaceans are mammals that live their entire lives in the water. They include whales, dolphins and porpoises. To test your general knowledge of cetacenas take a look here.
Want to know a particular cetacean's size, shape or color? Where they live? What they eat? Select a cetacean from the ones below for specific natural histories and information. More will be added in the future so check back often. Our goal is to have all 79 species of cetaceans available.
---

BLUE WHALE
The largest creature ever to live on earth.

---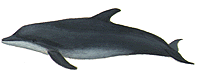 BOTTLENOSE DOLPHIN
The most studied and best known dolphin species. Over the past 50 years, these dolphins have been kept in aquariums worldwide.

---
---

COMMON DOLPHIN
Bow riding is their favorite activity -- in front of large whales or ships.

---
---
---
---
---
---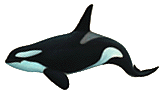 KILLER WHALE
Has one of the most varied diets of all cetaceans.

---

LONG FINNED PILOT WHALE
Some fishermen claim these highly social whales often guide or "pilot" them to schools of fish.

---
---
---
---
---
---

SEI WHALE
Named for its habit of arriving off the Norwegian coast at the same time as a fish called seje, or the pollack.

---
---

SPERM WHALE
Largest toothed whale. Males reach sizes more than twice that of females.

---

SPOTTED DOLPHIN
Killed in small harpoon fisheries in the Caribbean and off the Azores.



---